At Drinkwater Cattery, I am proud of my work raising quality, healthy, and friendly Savannah Cats. I specialize in the F1 generation. All babies fully guaranteed and come with inoculations and health certificates. All my Cats and kittens are registered with TICA, and I am a long-time holder of a Class II Florida Fish and Wildlife License. I have a vet inspected "Cattery of Excellence" issued by a licensed exotic cat vet Dr. Diane Perry. You must pick-up my Savannahs in person, I do not ship them! We are located in the Tampa, Florida area. Drinkwater Cattery is a FeLV/FIV and Tritrichomonas Negative cattery. Stud Service is Not offered.
Our Males
Our boys have huge habitats under a roof with 35-foot long pens full of hammocks, trees, tunnels, and toys. The thick-guage perimeter fencing keeps out all critters. They have a wonderful view of green spacious pasture, ponds full of wildlife, and lots of trees. They love to watch the horses run.
The Pool Area
Where the cats take a "dip" in the pool on hot, sunny days.
The Gazebo
A great, shady place to enjoy the kittens
The Nursery
My favorite room, our babies are birthed here and stay until 8 weeks old. These are pens made for birthing, then kitten learns to leave the nest and crawl into the litter box for good, early litter box habits. We have camera and sound security over our cattery, so I always know what is going on and can keep a close eye on all the cats and kittens. This room has sunlight and cross ventilation of fresh breezes and wildlife sounds.
The PVC Birthing Pens
6 ft. long pens are easy to bleach down and keep clean.
Inside Play Areas
We have several inside play areas that are 14 by 14 with cat trees, tunnels, and toys.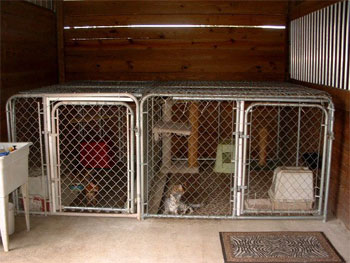 Dakota
She is a Fawnequin, quite a rare color in Danes. She is a wonderful pet. We do not breed Great Danes.
Brooklyn
She is a Harlequin Great Dane puppy and very special to us as our pet and playmate for Dakota. She has a brown eye and a grey-colored eye.
My Great Dane Boston
On July 11th, 2013 I lost my dear Boston to Lymphoma. I will never be the same without her at my side. Rest in Peace my sweet Boston. Boston's Memorial and ashes are in the flower garden, one of her favorite places at our home.
Popcorn
Cupcake
Sandhill Cranes